The annual worldwide lovefest is nearly here. Azimo hits the road in search of romance.
Valentine's Day started life as a pagan fertility festival. But it has now turned into a global PDA (public display of affection), as well as a hot date for retailers. More than a billion heart-filled envelopes are left under pillows or popped through letterboxes on 14th February. To join in the spirit of lovebirds everywhere, we took a look at V-Day celebrations around the world.
UK
The Brits are a pretty reserved bunch on the whole. But in early February, supermarkets, card shops and flower stalls across the land are flooded with heart-shaped cards, heart-shaped chocolates and hugely overpriced roses. Spending figures are astonishing with more than £1.6 billion lavished on Valentine's treats each February. That includes around £40 million of cheesy cards, plus a million bunches of roses plucked off the shelves at Tesco stores alone.
FRANCE
If anyone knows how to celebrate the power of love, it has to be the French. Paris even has its own love bridge, the Pont des Arts. It's famous for couples attaching padlocks to the railings and hurling the key into the River Seine as a symbol of everlasting love. Hearts were broken in 2015, though, when the city started removing some of the million love locks. Sadly, love wasn't lifting anything up. Instead, the bridge was collapsing beneath the weight of 45 tonnes of added metal.
FINLAND
Valentine's Day in Finland isn't just about slipping a love note into the handbag of your office crush or the textbook of your school sweetheart. Here, 14th February is seen as a chance to embrace all those close to you (always a danger when it's dark for six months of the year). Ystävänpäivä means 'Day of Friendship' and it's the time to show love in a big way to friends, colleagues, neighbours, you name it. The only problem is you might end up having to buy a lot of chocolates along the way.
NORWAY
Norway has had its fair share of famous writers, so it's no surprise that Valentinsdagen comes with a literary twist. Secret admirers don't just send the object of their desire a bunch of roses, they also have to come up with a funny little poem known as a gaekkebrev. The only clue to the sender's identity is a dot for each letter of their name at the end. If the recipient manages to guess who the poem is from, they're rewarded with an Easter egg (and possibly a whole lot more).
BRAZIL
Brazil is the home of sun, sea, sand and samba, where sexy is a way of life. Unlike many other countries, though, V-Day isn't celebrated in February. Everyone's too busy enjoying Carnival, with dancers parading through the streets dressed in little more than a pair of high heels and some tassels. It makes two dozen red roses seem pretty tame. If that all sounds a bit steamy, Brazil does tone things down a bit for Dia dos Namorados on 12th June. It honours Saint Anthony – the patron saint of matchmaking and marriages – with no tassels attached.
JAPAN & SOUTH KOREA
Valentine's Day in Japan is a one-sided affair, with women in charge of the treats. The tradition is for ladies to give chocolates to their male sweetheart – honmei-choco (literally 'true-feeling chocolates'). But men don't have it all their own way. A month later it's the turn of White Day, when the gents have to repay the favour with added interest. South Korea's celebrations are similar to Japan, but with a small local twist. On White Day here, single folk celebrate the joys of single life by tucking into jajangmyeon, a dish of white Korean noodles and black bean sauce.
CHINA
Chinese Valentine's Day (Qixi) is celebrated on the seventh day of the seventh lunar calendar. There's a strong emphasis on getting the millions of single twentysomethings out, about and looking for love. But this being China, Qixi is no small-scale dinner for two. Instead, you can expect mass blind dates and kissing contests. One 30,000-strong blind date in Hangzhou encouraged men to measure the bust size of potential dates to get to know them better, while a tug-of-war was also organised. It gives the phrase 'on the pull' a whole new meaning.
It doesn't matter where you're from, the celebration of love is universal. But if you're unable to be with your loved one this Valentines day, we'd love to know how you're planning on showing you care in our latest poll.
Azimo is the best way to transfer money to your loved ones around the globe, but here are five other ways to show you care in 2016:
1. Marmite Personalised Jar, £4.99, www.marmite.co.uk
Your personal message in 11 characters. Just make sure she's a lover, not a hater.


Marmite
2. Scrabble Light, £19.99, www.iwantoneofthose.com
Spell out your true feelings with 60 interchangeable letter stickers on a string of lights. If it all goes pear-shaped, they're reusable too.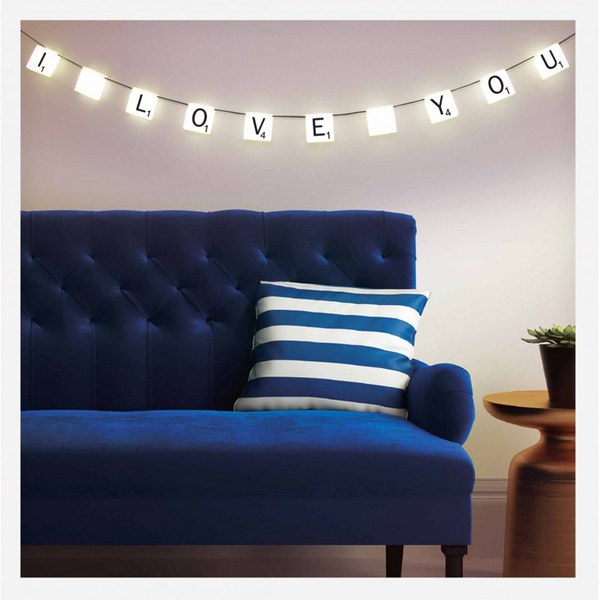 iwantoneofthose.com
3. Pair of Le Creuset Stoneware Heart Ramekins, £34, www.amazon.co.uk
Perfect for dinner à deux – don't forget to fill them with something suitably steamy.


lecreuset.co.za
4. Massage, from £39, www.spaandmassage.co.uk
Treat her to the rubdown she's always dreamed of without you even having to lift a finger.


spafinder.com
5. KitchenAid Nespresso Artisan Coffee Machine with Aeroccino in Candy Apple Red, £350, www.johnlewis.com
The perfect way to impress the morning after the night before.


johnlewis.com